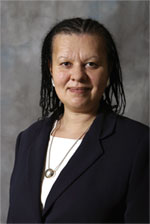 Sandra has been a self-employed visiting lecturer, group facilitator, seminar leader and consultant since 1990. Sandra began her career in scientific research but an increasing interest in aspects of personal development and counselling lead to counsellor training and a change of direction.
For the last fifteen years Sandra has taught in several colleges and delivered training in personal development to a variety of organisations in addition to working as an Independent Staff Counsellor for the Health Education Authority.
Sandra chose to change from self-employment to setting up ETL because, after years of working with highly professional people, it seemed logical to bring all the expertise together in order to satisfy the diverse training requirements of organisations.
Areas that Sandra is experienced in delivering:
Assertion skills
Bullying at work
Confidence building skills
Counselling (including a seminar for counsellors on being mixed race)
Customer care
Pre-recruitment training courses
Selling
Our work
Our training is:
tailored to your specific needs,
work related when required,
delivered by experienced trainers,
flexible: individuals or groups,
interactive and enjoyable and
value for money.